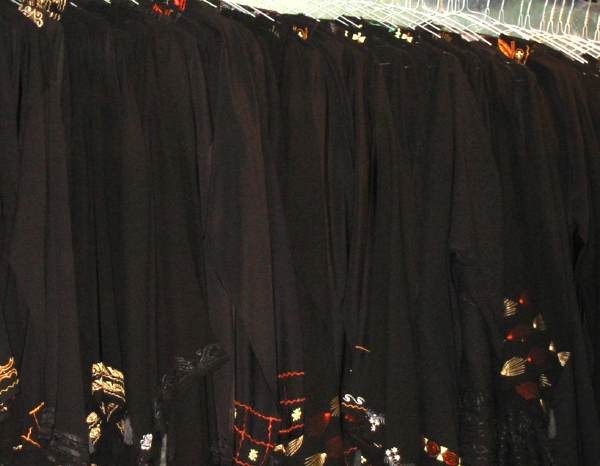 This is soo very true. All I ever really wear is abayas, so the more the merrier. Since I couldn't think of anything for my dowry, my husband suggested that he just buy me abayas, whichever ones I want as long as I dont go overboard with it, like max out his credit card overboard. That's a girls dream and my dream come true. Soon as he said that, I already knew the ones I wanted. I had to convince him about ordering things from oversees because he's a bit finicky about it since it takes longer and he says you never know if they'll actually send it to you. But Im pretty confident. All of them are from websites that I or friends who purchashed from and haven't had any trouble alhamdulillah. Well here are a few of the ones I picked and are in the process of ordering:
This one is absolutely pretty. It's from Tahura.com. What I love about tahura is that they custom make the abaya for you. You choose the measurements, the color of the designs (they have a long list of colors), and whether you want the abaya open or closed. That's just unbelievabley awesome. I like the colors the chose above, but I would probably do white and another neutral.
Also from tahura, this is my favorite out of all of them. Too bad it's not made out of the material display. As it says on the website satin material in pictured abaya for iluustration purposes only. All abayas will be cut from the normal 'softtouch' tahura abaya material. It would be nice if they did, but it's still beautiful. Im gonna order it as is.

Im always looking for something a bit different and this abaya makes the cut. This one is from
2hijab.com
It has a beautiful ribboned trimmed hood and flowing sleeves. To get a better look at it
click here
. The pictures will say enough.
For my satin craving,
this abaya
from al-hijaab is so beautiful. It looks too nice for everyday, but for those days I just wanna look glam and chic, this will do the trick. And the plus side, it comes with the matching shayla FREE!!!! That makes my day lol.
And last but not least Im gonna get a plain black open style abaya, once I find one I like. A girl can never have too many of those. It's an abaya wardrobe.